Commercial Concrete Structure
Commercial
Concrete

Structure
We offer a full service in concrete construction from small steel reinforcement ,formwork & concreting.
B Jacob Construction Inc. is a found it by Bogdan Iacob with a 15+ years of professional formwork experience. We offer a full service in reinforced concrete construction for Grade beams, bases, foundations, walls, staircases & basements. Contact us for a free quote.

Thanks to our professionalism and workmanship, we are gaining repeat custom and recommendations, helping our company grow at our fast rate. In fact, with our ever increasing turnover, we are  really fastes growing reinforced concrete contractors in Calgary .We believe in attention to detail, quality standard of workmanship and a high end product.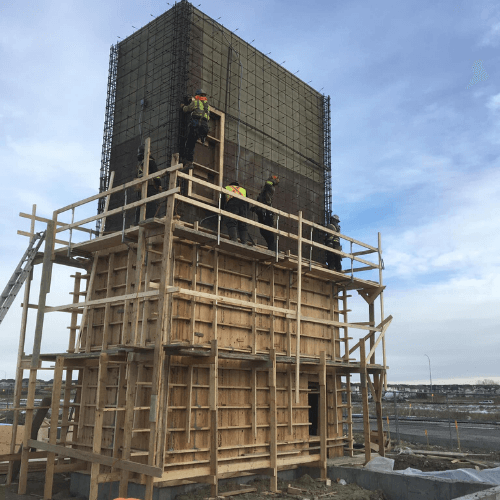 What is Commercial
Concrete?
Commercial concrete is a versatile and durable material that is specifically designed for use in commercial construction projects. It is made by mixing cement, water, aggregates, and other additives to create a strong and stable mixture.

One of the key features of commercial concrete is its ability to withstand heavy loads and resist wear and tear over time. This makes it an ideal choice for constructing foundations, floors, walls, columns, beams, and other structural elements in commercial buildings.

Commercial concrete structures can range from small retail stores to large office complexes or industrial facilities. Whether you're building a new structure or renovating an existing one, commercial concrete provides the stability and strength needed to support the demands of your business operations.

Not only does commercial concrete offer durability, but it also provides versatility in design. With various finishes available such as exposed aggregate or stamped patterns, you have the freedom to customize your building's aesthetic appeal while still maintaining its structural integrity.

In addition to its strength and design flexibility benefits, commercial concrete also offers excellent fire resistance properties. This can provide added safety assurance for your business premises.

Overall ,commercial Concrete has become an essential component in modern construction due to its impressive characteristics: strength,durability,and versatility.

Its ability handle heavy loads,resist wear,and retain aesthetics make it suitable choice for any type of business property.

Additionally,it ensures long-term investment protection as it requires minimal maintenance.

Furthermore,the fire resistant nature minimizes potential damage risks.

Now that we've covered what commercial concrete is all about let's explore some of the different types of structures where this material excels.
The benefits of a
commercial concrete structure?
Commercial concrete structures offer a range of benefits that make them an ideal choice for various construction projects. One of the main advantages is their durability and longevity. Unlike other materials, such as wood or steel, commercial concrete can withstand extreme weather conditions and heavy use without deteriorating or requiring frequent repairs.

Another benefit of commercial concrete structures is their fire resistance. Concrete has excellent fire-resistant properties, making it a safe option for buildings where fire safety is a top concern. This not only provides peace of mind to occupants but also reduces the risk of property damage in the event of a fire.

In addition to durability and fire resistance, commercial concrete structures are also highly energy-efficient. The thermal mass properties of concrete help regulate indoor temperatures by absorbing and releasing heat slowly, reducing the need for excessive heating or cooling systems. This results in lower energy consumption and cost savings over time.

Furthermore, commercial concrete structures offer design flexibility. With advances in technology and techniques, architects can create unique shapes, textures, and finishes using concrete. This allows for innovative designs that enhance aesthetics while maintaining structural integrity.

Commercial concrete structures are environmentally friendly due to their low carbon footprint compared to other building materials like steel or aluminum. Concrete production emits fewer greenhouse gases during its manufacturing process, making it a more sustainable choice.

The benefits offered by commercial concrete structures make them an excellent investment for any construction project seeking longevity,
Why choose our company for your
commercial concrete needs?
Why choose our company for your commercial concrete needs?

When it comes to commercial concrete structures, you need a reliable and experienced partner who can deliver high-quality results. That's where our company comes in. We are committed to providing the best services and ensuring customer satisfaction every step of the way.

Here are some reasons why you should choose us for your commercial concrete needs:

1. Expertise: Our team consists of skilled professionals who have extensive knowledge and expertise in working with commercial concrete structures. We understand the unique requirements of different projects and can provide tailored solutions that meet your specific needs.

2. Quality Assurance: We take pride in delivering top-notch quality in all our projects. From using premium materials to employing advanced techniques, we ensure that every aspect of our work is done to the highest standards.

3. Timely Delivery: Time is crucial when it comes to commercial projects. Delays can cost you money and affect your business operations. With our efficient processes and commitment to meeting deadlines, we ensure timely delivery without compromising on quality.

4. Range of Services: Whether you need new construction, repairs, or renovations for your commercial concrete structure, we've got you covered. Our comprehensive range of services includes foundation work, floor slabs, sidewalks, parking lots, retaining walls, and more.

5. Customization Options: We understand that each project is unique with its own set of specifications and design requirements. That's why we offer customization options to tailor our services according to your preferences while adhering to industry standards.

6. Competitive Pricing: While maintaining high-quality standards may seem expensive at times, we strive to offer competitive pricing without compromising on excellence or cutting corners on materials or workmanship.

7. Customer Satisfaction: At the core of everything we do lies customer satisfaction as a priority! We believe in building long-term relationships based on trust by consistently exceeding expectations through exceptional service delivery.

So if you're looking for reliable commercial concrete structure services in Calgary, look no further than Bjacob Construction. With our expertise, commitment Very professional. We are 100% satisfied. Minimal dust and finished product is excellent. Highly recommend this company.